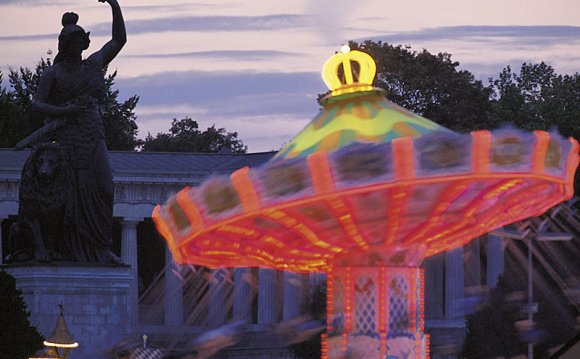 Oktoberfest began as the marriage ceremony between Prince Ludwig and Princess Therese on October 12, 1810. All of the townspeople were invited to attend the festival, which took place in the fields outside of the city gates. Following the wedding the fields were named Theresienwiese after the Princess, and the party was such a hit that the townspeople asked King Ludwig to continue the celebration the following year. Oktoberfest in 2015 will mark the 208th anniversary of the festivities.
Why stop a good thing!?
Today the remnants of the gates still stand and the fields, known by locals as the Wies'n, now host the largest beer festival in the world: Oktoberfest! What was a simple wedding celebration has transformed into a 17 or 18-day festival in which 7 million people from around the world participate in, consuming more than 6 million liters of Bavarian beer. That's 1 million gallons of beer! Oktoberfest officially begins on the second to last Saturday in September at noon when the mayor of Munich taps the first barrel at the Schottenhamel Tent, crying "O'zapft is" (It's open). The festival concludes the first Sunday of October following German reunification day on October 5.
There are 14 main beer tents at the Theresienwiese grounds serving brews by the Maß (1-liter stein). Of the 14 tents there are 6 large tents, which rotate up to 12, 000 people per day! That is a whole lot of beer! Only six breweries are represented at the Oktoberfest grounds - Späten, Augustiner, Paulaner, Hacker-Poschorr, Hofbräu and Löwenbräu. Everyone has their preferred brew by the end, which one will be yours?
Also, for those of you who fancy a break from the frothy brews there is a special wine tent called Weinzelt.
♦ Where does the Oktoberfest happen?
The Oktoberfest takes place in Munich, Germany, on the ground known as "Theresienwiese", which is also called "Festwiese" by the locals.
Half of the year, the grounds are simply a public park. Around June, the tents and fun fair foundations begin their staggered process of construction with a completion date of late September, just in time for the beginning of the festival. This area hosts a space of 420, 000 sq ft and is easy to get to from central Munich.
♦ When does the Oktoberfest happen?
The Oktoberfest begins in September and ends in October on the first Sunday in October, or on October 3, whatever is later. It lasts for at least 16 days.
The next dates are:
• 2015: September 19 - October 4
Opening Weekned: September 18 – 21Mid Weekend: September 25 – 28Closing Weekend: October 2 – 5
• 2016: September 17 - October 3
♦ Oktoberfest starts in September…why is it called Oktoberfest?
The first Oktoberfest was celebrated in Munich in 1810 in honor of Prince Ludwig's marriage to Princess Therese von Sachsen-Hildburghausen. The festivities began October 12, 1810, and lasted for almost a week, until October 17. The public celebrations ended with an exciting horse race. After such a spectacular party, the happy couple decided that the same type of festival should be continued annually. In the following years, the galas were repeated every October, prolonged and, eventually moved forward into September primarily because of the weather.
♦ What's the deal with Beer Tent Reservations?
Every year, it's a long process for us to book beer tent reservations, and you don't always get exactly what you want. Every tent has its own system for booking reservations, not to mention they each start the process at different times of the year. You always have to make reservations in groups of 8-10 people, and most of the reservations go to locals who have held tables at the Wies'n for several generations.
The big tents (holding 7, 000-10, 000 people at a time) are the most difficult to get into and often close their doors by noon on Saturdays simply because they're already full. It's nearly impossible to get into a big tent without a reservation on a busy day; however, you can sometimes squeeze in with someone at a table outside and order a beer to establish your spot. If you're already in a tent when the reservation time has expired, you can stay in that tent - you just have to find an opening at a table in a non-reserved section. Weekdays are much less crowded compared to Saturdays and weekend nights. Two people can usually find their way into a tent and find a seat to get a beer. At night it's often too crowded to order food (unless you have vouchers with your reservation) but don't worry; there are plenty of vendors serving hearty Bavarian food on the Oktoberfest Fair Grounds.
The Bucket List Events package includes at least 1 beer tent reservation per person. Depending on which weekend you're in Munich, you may end up at a big tent (5, 000+ capacity) or a medium tent (under 1, 000-5, 000 capacity). Most reservations include 2 beers (1 liter each) and 1 food voucher (usually a chicken plate). It is sometimes possible for us to include a second beer tent reservation in your package for an additional charge - just ask!
gold wall decor
gold wrapping paper
gold xbox
gold xbox one controller
gold xmas tree
gold x teal
gold xbox 360 controller
gold x auto sales
gold x ring
gold xlr
gold yellow
gold yarn
gold ysl heels
gold youtube play button
gold ysl bag
gold yachtmaster
gold yahoo finance
gold yacht
gold zippo
gold zeo ranger
gold zebra loach
gold zekrom
gold zacian v
gold zamazenta
gold zelda nes
gold zodiac necklace
gold about to explode
gold about information
gold about to crash
gold about 2019
gold about sentence
gold about history
gold about rate
gold after hours
gold after 5 dress
gold after etf
gold after five shoes
gold after 50
gold after america tour
gold after five dresses
gold after hours price
gold against the soul
gold against inflation
gold against us dollar
gold against inflation chart
gold against loan
gold against dollar
gold against cash
gold against the soul vinyl
gold among us
gold among us character
gold among us pop it
gold among the dross
gold among the sand
gold among us wallpaper
gold among the dross meaning
gold among us logo
gold around america tour
gold around pupil
gold around the world
gold around tooth
gold around me
gold around teeth
gold around the american flag
gold around iris
gold as an investment
gold as inflation hedge
gold as a gas
gold as a hedge against inflation
gold as a conductor
gold as an element
gold as currency
gold as an investment 2021
gold at the bottom of the ocean
gold at the bottom of lake michigan
gold at the bottom of the pyramid
gold at the bottom of niagara falls
goldfish at bottom of tank
gold at bottom of world trade center
gold at bottom of waterfall
gold at bottom of american flag
gold at the top of the pyramids
gold brick top of moving stairs
top golf
what happened to the gold at the top of the pyramids
what happened to the gold on top of the great pyramid
gold at the end of the rainbow
gold at room temperature
gold at fort knox
gold at spot
gold at the end of the rainbow meaning
gold at walmart
gold at world trade center
gold at higher levels 5e
gold before and after etf
gold before it is refined
gold before processing
gold before purification
gold before election
gold before you wake up
gold before mining
before gold coast what was the name of ghana
gold behind the couch table
gold behind currency
gold behind waterfall rdr2
gold behind boulders
gold behind glass
gold behind the names
behind gold icon
behind gold's rally
gold beneath world trade center
gold beneath the waves
gold beneath dark waters
gold beneath the waves pdf
gold beneath the waves book
gold beneath the southern skies
gold chain beneath your shirt
gold key beneath the planet of the apes
gold bedside table
gold bedside lamp
gold bedside lamp with usb port
gold bedside clock
gold bedside sconces
gold bedside wall lamps
gold bedside table set of 2
gold bedside tables with drawers
gold between teeth
gold between gap teeth
gold between tiles
between gold and diamond which is more expensive
between gold and platinum which one is expensive
between gold and silver which one is expensive
between gold and diamond which is more valuable
transfer gold between servers wow
gold beyond las vegas
gold beyond measure
gold beyond the sun necklace
gold & beyond
gold & beyond montgomery alabama
gold beyond marlboro
gold & beyond on norman bridge road
gold & beyond pawn shop
gold but a is silent
gold but bold
gold but old
gold but not old
gold but no glitter
gold buy gold
gold but not glitter meaning
gold but k is silent
gold by the gram
gold by the ounce
gold by kiiara
gold by britt nicole
gold by the inch
gold by john stewart
gold by the gram price
gold by commodity
contra gold
gold in contra costa county
gold sodium thiomalate contraindications
slim gold contra indicação
gold pro contra
gold nutrition zma contra indicações
007 contra gold finger
ivomec gold contra indicação
gold during inflation
gold during stagflation
gold during deflation
gold during recession
gold during hyperinflation
gold during great depression
gold during market crash
gold during 2008 crash
gold even
gold evening gown
gold evening dress
gold event center
even gold is tested by fire
even gold can rust lyrics
even gold can rust
event gold class
except gold
gold for cash
gold for sale near me
gold for cash near me
gold for sale online
gold for america tour
gold for jewelry making
gold for childhood cancer
gold from itsfunneh
gold from electronics
gold from india
gold from dubai
gold from pokemon
gold from computer parts
gold from italy
gold from ocean water hoax
gold in between teeth
how to separate gold from teeth
can gold be removed from teeth
where to remove gold tooth
how to separate dental gold from tooth
Source: www.mybucketlistevents.com
Share this Post