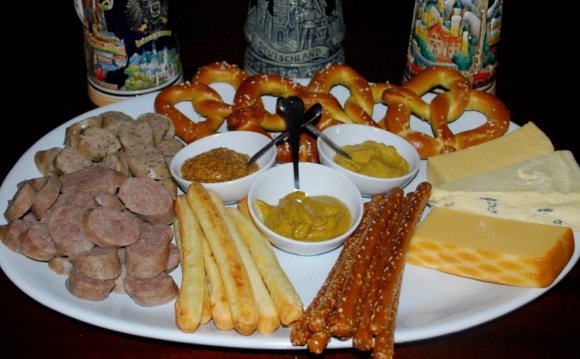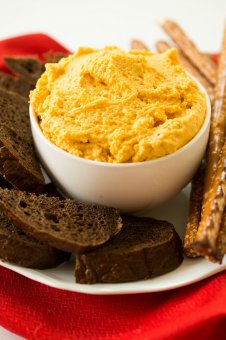 When it comes to ethnic food, I feel super lucky to live in a city with a Hofbräuhaus restaurant. We typically go at least a couple of times a year, and I love all of the traditional German foods, from schnitzel sandwiches to potato pancakes and, of course, massive Bavarian pretzels. Not surprisingly, the pretzel is a must-order for me every single time I'm there, and I could totally make a meal of it. A friend of mine recently texted me to ask what she could bring to an Oktoberfest party that would go with soft pretzels (which the host is planning to make). Literally, within hours of her texting me, I came across a recipe for German beer cheese spread, and I thought it would be just what she needed for the party.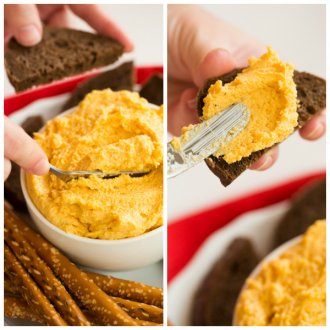 This spread goes fantastically well with pretzels, as well as other crackers and snack breads. It's primarily cheesy, but with a little bit of a mustard undertone and some seasonings, which makes it the perfect accompaniment with pretzels, whether they're soft pretzels, pretzel rods, or any variety in between.
Whether you're throwing an Oktoberfest party or just looking for another appetizer to add to the rotation for parties or sports-viewing parties, this cheese spread is a great addition to any menu.
One year ago: Triple Chocolate Mousse Cake
Two years ago: Oatmeal-Raisin Ice Cream
Four years ago: How to Measure Butter
Five years ago: Polenta Pizza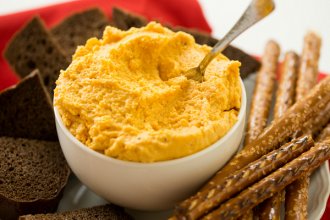 Prep Time: 10 minutes
Total Time: 10 minutes
A cheesy mustard spread made with German beer - perfect for dipping pretzels!
Ingredients:
16 ounces (454) sharp cheddar cheese, cut into ½-inch cubes
1 tablespoon worcestershire sauce
1½ teaspoons yellow mustard
1 clove garlic, minced
¼ teaspoon salt
⅛ teaspoon ground black pepper
¾ cup German beer (or non-alcoholic beer if you don't drink or are pregnant!)
Directions:
1. Place the cubed cheese in the bowl of a food processor and pulse until finely chopped, about 10 pulses.
2. Add the worcestershire sauce, mustard, garlic, salt and pepper to the cheese and begin to process. While processing, pour the beer through the feed tube in a steady stream and process until the mixture reaches a smooth consistency, about 30 to 45 seconds.
3. Refrigerate for at least 1 hour before serving. Serve with pretzels, crackers or pumpernickel bread. The spread can be kept in an airtight container or wrapped in plastic wrap in the refrigerator for up to 5 days.
See also:
Source: www.browneyedbaker.com
RELATED VIDEO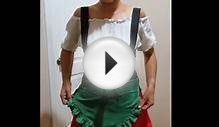 Easy DIY: German Beer Girl Outfit for (Oktoberfest ...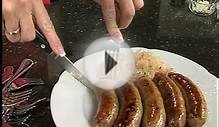 Traditional German recipes for Oktoberfest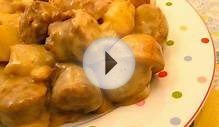 Easy German Recipes
Share this Post