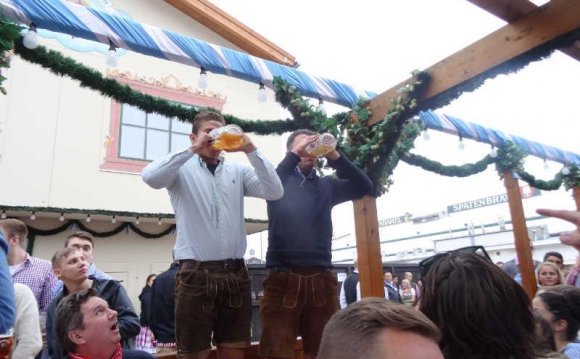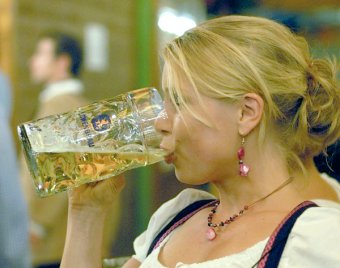 I'M NOT a big beer drinker, and I typically avoid anything that draws a massive crowd. But my husband and I were traveling through Bavaria with his sister during Oktoberfest, staying in a US military "resort" in Garmisch-Partenkirchen that offered shuttle service to and from Oktoberfest on opening weekend. There were exactly three seats left at the time we inquired about it. It seemed like fate.
So there I was, on a bus heading to the Theresienweise — the festival grounds near Munich's center. It all seemed festive enough. Then our bus driver warned us about people coming back drunk enough to puke on the bus. It all went downhill from there.
Opening weekend
Oktoberfest is a 16- to 18-day festival that always starts in September and ends in early October. There's a parade on opening weekend that features marching band after marching band from various Bavarian villages and beyond.
We arrived on a day when temperatures were around 90 degrees F, and we gave up on the parade as it was still going on, sunburned and exhausted, after about two hours. Yes, two hours. Of course, by that time, the grounds were swollen with people, and we had difficulty getting around because of it. If only we had just skipped the parade and gone straight to the Paulaner tent.
Ban on outside drinks
If you plan to spend some time in a beer tent, you better plan to do all of your drinking there too. This might not be a difficult prospect for most people — after all, beer is one of the primary draws — but for those of us who aren't beer drinkers, it's a bit of a problem. You won't be allowed inside the beer tent with any outside drink, even if you purchase it on Oktoberfest grounds. To enforce this, there is security posted outside to check your bags.
If you end up buying a beverage outside the beer tent, you either have to guzzle it or walk around the grounds while you finish it. As a result of this policy, I ended up having to separate from my husband and his sister. They went into the beer tent to try to find seats while I stayed outside, banished with my lemonade because I didn't want to hold them up.
The crowds
If you're the casual Oktoberfest visitor who thinks you can just waltz right in and grab a seat, think again. My husband went to every single beer tent and never found a place to sit. In fact, he didn't even get to drink any beer whatsoever in the five hours we spent there.
The crush of humanity both outside and inside the beer tents was so bad we could only move at a snail's pace, never mind finding a spot to sit.
If you plan to go to a beer tent, go early or make reservations with that beer tent in advance. If you don't go early or make reservations, and you somehow get lucky enough to find a seat, plant yourself there for the rest of the day.
The WC
The only restrooms I could find were in the beer tents, and I walked all over the grounds. If there were any others, I didn't see them. So imagine me with my outside drink, and I felt a sudden need to go, thanks to my huge bottle of lemonade. I had to chug at least half of my drink, return the bottle to get back my one Euro deposit (not necessary, but I'm thrifty by nature), navigate in excruciatingly slow fashion through the crowds, enter a beer tent, locate the restroom, and then stand in line. Plan ahead to pee.
A point in Oktoberfest's favor: I didn't notice anybody skipping the WC altogether and finding somewhere else to go.
The size
Munich's Oktoberfest is one of the world's biggest and most famous festivals. But keep this in mind: A great number of Munich residents actually flee the city just before Oktoberfest starts, according to my friend who once lived there. Many of the folks around you may very well be from countries other than Germany, even if they're dressed up in lederhosen and dirndl (perhaps especially if they're dressed like this).
This is great if you love meeting people from all over the world, but if you're looking to mingle with Germans while experiencing a bit of the local culture, you might want to look at any of the smaller Oktoberfest celebrations going on throughout Deutschland. They're every bit as festive and the beer flows just as much, but they're less tourist-clogged.
Another point for Oktoberfest: Despite the huge servings of beer and the party atmosphere inside the beer tents, there were no shameful displays of public drunkenness that I witnessed. At least until I returned to the bus. And it so happened to be the guy who was seated next to me.
He stumbled onto the bus, sat next to me, announced he was drunk, ran off the bus to puke, and then came back and fell asleep. I was seated next to the window, so I had nowhere else to go, at least for a while. Eventually, someone pointed out an empty seat behind me, and I crawled over him to escape.
Have you been to Oktoberfest? How did it go? Let us know in the comments.
***Explore the world party scene with 101 PLACES TO GET F*CKED UP BEFORE YOU DIE. Part travel guide, part drunken social commentary, 101 Places to Get F*cked Up Before You Die may have some of the most hilarious scenes and straight-up observations of youth culture of any book you've ever read.***
Source: matadornetwork.com
RELATED VIDEO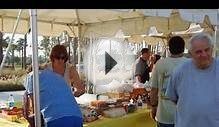 Oktoberfest 20091.wmv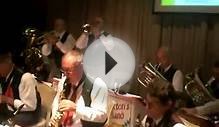 Oktoberfest Gala at German Embassy 2 by ThingstodoDC.com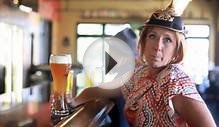 Top Things to Do at Oktoberfest
Share this Post