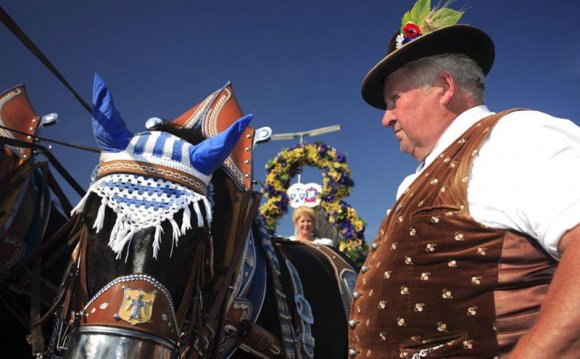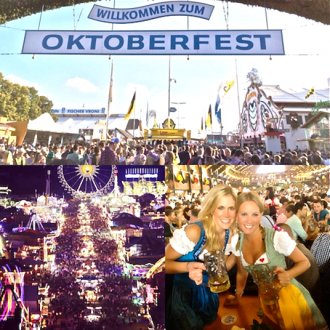 Dates & details of Munich Oktoberfest 2015 – Largest in the World:
Sat., Sept. 19 through Sun., Oct. 4
Theresienwiese festival grounds, (München) Munich
How to get there:
The festival grounds, or simply the wiesn, is in the downtown area of Munich, Germany, about 40 minutes from Munich Airport (Flughafen München – MUC) by car or Munich public transit via rail. S-Bahn rail ticket machines, which accept credit cards, and currency exchange counters are available at MUC airport.
The S1 or S8 line from the airport is convenient as parking is very limited downtown and driving downtown is not advised. You can take either line to the main train station (Hauptbahnhof) and walk about 15 minutes to the Oktoberfest grounds. Or for a closer stop, transfer at Hauptbahnhof to the U-Bahn U4 or U5 underground subway line in the direction of Theresienwiese (1 stop) and exit there. See Oktoberfest map below.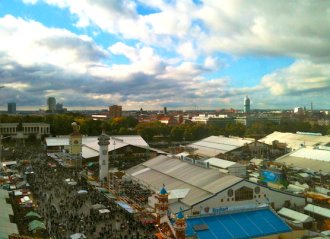 Fees:
Entrance to explore Munich Oktoberfest is free, and you pay for drinks and food in the tents or kiosks when you order. Therefore, tickets and reservations are not generally required, although you may be able to reserve a table at some beer tents in advance of when you and your guests will sit. Some attractions, like carnival rides and special exhibits, may require a fee. The price for a mug of beer (Maß), which is a liter or about two pints, is around 9, 70 euro or about 12.75 USD or 8.15 GBP by comparison.
Food selection varies by tent but often includes Bavarian and German favorites like roast chicken, pork schnitzel or cutlet, variety of braised or pickled vegetables, bratwurst, spätzle egg noodles and large, baked pretzels.
Bags & security:
Bags are checked on the Munich Oktoberfest grounds so do not bring anything that could be deemed hazardous and it's best to carry just essential belongings in a tote or shopping bag. Also it's generally advised to consume beverages or food you brought before entering, as they may be taken by security given that food and beverages are available for sale.
Weather:
As Munich is relatively near the German Alps, weather conditions can be changeable so be prepared for cooler weather or rain gear if needed. Temperatures in September – October are generally around 18°C daytime (65°F) and 7°C at night (45ºF). While the tents are warm, there's much to see outside on the Munich Oktoberfest grounds.
Munich, Germany — Travel Tips:
- Arrive early, before Noon – especially on the weekends – as tents can fill up.
- Pick a tent or two to experience in any single day, rather than trying to sit in many of them; you may not find a seat as the day goes on.
- Bring cash with you as some tents or attractions may accept cash only.
- Tipping, e.g. by rounding up to the nearest euro or about 5 – 10 percent is generally appreciated; give your tip directly to the wait staff there.
- Stay hydrated; ask for water if you need it in the tents.
- There's much to explore around Munich Oktoberfest, so if you have time, visit Marienplatz square and other nearby sights of the city, shopping, beer gardens and restaurants in historic Munich too!
Source: oktoberfestbeerfestivals.com
Share this Post