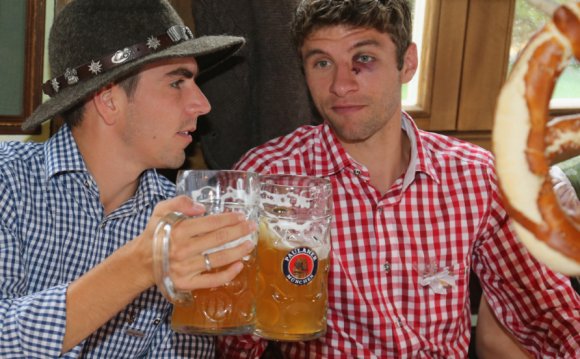 Evanston will be hosting its first-ever Oktoberfest this Sunday featuring craft beer from four local breweries.
Oktoberfest is the result of a joint effort by breweries Peckish Pig, Smylie Brothers Brewing Co., Temperance Beer Company, FEW Spirits and Downtown Evanston, a local nonprofit organization that provides marketing and management services to the city's downtown dining and shopping hub.
"We believed we were filling a gap, " said Annie Coakley, Downtown Evanston's executive director. "The craft brew movement has been going on for quite some time, but it really just started to take off here in Evanston."
Evanston has long had a population of people who brew their own beer, but the city has never before been home to such a vibrant community of brewing companies, Coakley said.
The event will be the culmination of months of meetings between Downtown Evanston and the brewing companies, who sought an event that could showcase the craft beers in Evanston as well as act as a fundraising event for Downtown Evanston. The money raised will allow the organization to continue to provide special services for the downtown district, she said.
Starting with early admission at noon on Sunday at the parking lot behind the Hilton Garden Inn, 1818 Maple, VIP festival-goers will be able to explore the beer tent and sample four year-round beers from each of the companies as well as a fall-themed brew and a specialty cocktail from FEW Spirits.
Those who purchased general admission tickets have access to the four year-round brews, and every ticket holder will receive a commemorative beer sampling glass, as well as access to live music, dancing and food available for purchase from the brewing companies. Doors will open to general admission at 1 p.m. The event lasts until 5 p.m.
Debbie Evans, owner and executive chef of the Peckish Pig, one of the four beer companies to be featured at the festival, said her company was originally approached by Downtown Evanston to see if they would be interested in showcasing all breweries and brew pubs in the city.
"They asked us, and we contacted everybody else and we all sort of got together, sat down, had a couple meetings and thought it would be a great idea to showcase all the beers that we brew in Evanston, " she said.
While Evanston has a reputation for being a "dry city, " its craft breweries have actually become a vital aspect of the city's identity, Coakley said. She said this is an exciting event for Evanston and its strong community of beer enthusiasts.
"People enjoy experiencing the craft beer, the special ingredients, the time and the craftsmanship that goes into making some of these beers that stand out, " she said.
Josh Gilbert, founder of Temperance Brewing Company, said he is very excited for the event especially considering his brewery opened only two years ago.
"For me, personally, it's kind of crazy that we started a couple of years ago and now it's two years later and we're having an all-Evanston beer fest, " he said.
Craft beer brewed in Evanston has become a staple among locals, Coakley said.
"It is definitely something that has put the city on the map, " she said.
Source: dailynorthwestern.com
Share this Post