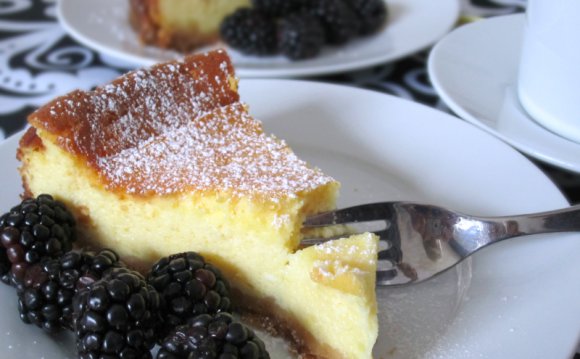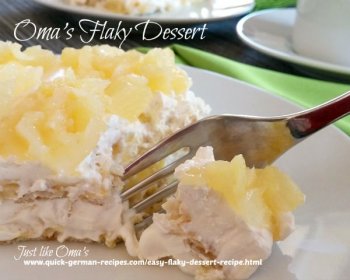 My easy flaky dessert recipe is similar to the German Blätterteig or a French Puff Pastry. But, it's so much simpler to make. AND, it tastes so-o-o good! This simple dessert is just layers of unsalted soda crackers (saltines), pudding, and Cool Whip. It sounds strange, but this quick, easy dessert recipe always brings rave reviews. I'm almost embarrassed to share this as something I would make ... but, it's SO good!
I'll tell you ... when you try my easy flaky dessert recipe, you'll be absolutely amazed.
Ingredients
1 package Soda Crackers/Saltines (unsalted tops)

1 package instant vanilla pudding mix

2 cups milk (to make pudding)

I large tub Cool Whip (1 liter, or 12 ounces, or 4 cups)

1 can crushed pineapple, drained or 1 pkg frozen berries

Instructions
Line bottom of 9 X 13 inch baking dish with soda crackers.

Prepare pudding mix according to package instructions. Gently pour 1/2 over crackers and spread.

Gently spread 1/2 carton of Cool Whip over pudding

Cover Cool Whip layer with another layer of soda crackers.

Gently pour remaining pudding over crackers. Cover with remaining Cool Whip.

Cover with crushed, drained pineapple or frozen berries

Cover with Saran Wrap and refrigerate at least 6 hours, preferably overnight.

Hints:
Use low-fat Cool Whip and pudding if desired.

Use any mixture of berries or even pie filling.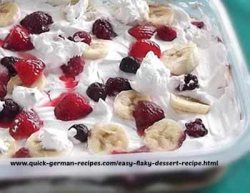 Among the many Cool Whip recipes, this one has a secret. The secret is "time". Yes, time. You see, it takes a bit of time to transform the soda crackers into flaky pastry.
It's the 'soda cracker dessert' my sister, Helen, also likes to make and take to church functions.
How can anything this simple taste so good? Here, she topped it with bananas and berries.
You can use frozen berries, like she does, or perhaps a can of pie filling.
Almost anything! Check out my Black Forest inspired dessert below!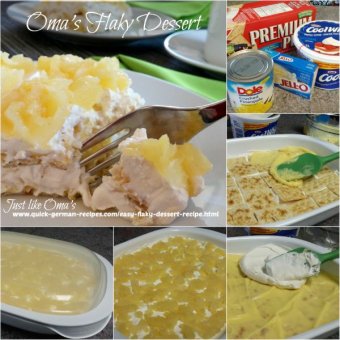 The only important thing is that you let this sit for at least 6 hours for the crackers to turn into puff pastry!
After the first bite, I'm usually asked for the recipe. I hesitate to tell them while they are eating it, thinking that they'll probably stop.
But, even when I admit it's just crackers, pudding, and Cool Whip, people go back for seconds - it's THAT GOOD!
This is also one of those recipes for kids to cook (because there's no cooking involved!), but you need to plan ahead. It takes several hours - preferably overnight - in the fridge for the crackers to change.
On a diet? Try it as a diet version. Use low-fat Cool Whip and low-fat instant pudding. Then, top with a mixture of fresh berries. Just as good.
Is this German?
The origin of this recipe is unknown. It's been passed around the internet for a long time, slightly varying in amounts and ingredients. So, I guess it could be! Here, I've turned it into a Black Forest Dessert. Wunderbar!
Readers' Comments

The following comments were sent in by some of our readers:
Sharon from Brampton, ON Canada writes:

I took it to two parties and it went over very good. Everyone said how good it was after a meal. It just went down so smooth. :) Did not get any pictures. It went to fast. :)
Helen from Powassan, ON Canada writes:

My variation on this dessert is that I used Lemon Pudding instead of Vanilla Pudding. Instead of crushed pineapple, I sliced bananas over the top.
Here's another variation. Once, when I didn't have soda crackers, I substituted Vanilla Social Tea Biscuits. Tastes great as well.
All are great desserts to take to a buffet!
An anonymous reader writes:

Or similarly is chocolate pudding . . . . . and then layer top with grated chocolate bar . . . . yum!
More German Recipes ...
* * * * *
Want nutritional information for a recipe? Copy and paste the ingredient list and the number of servings into . It will give you an approximate calculation.
Take a look at Oma's eCookbooks ...
Download FREE "Herbs & Spices in the German Kitchen" NOW
by Subscribing to my FREE monthly Newsletter
Experience Germany: food, people, country, & RECIPES!
› Flaky Dessert
Source: www.quick-german-recipes.com
RELATED VIDEO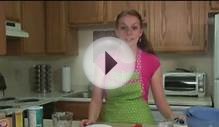 German Chocolate Cake Recipe : Ingredients For German ...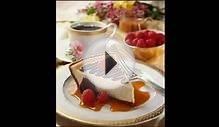 german dessert recipes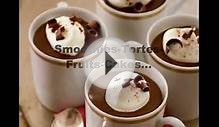 Desserts Recipe
Share this Post