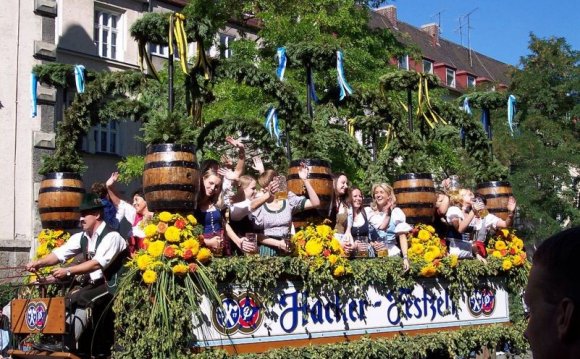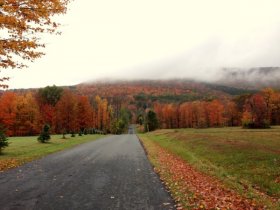 Every year, beer lovers from around the globe descend upon the town of Munich in Germany's Bavaria for Oktoberfest, an annual celebration of the great German love of suds – with 2013 marking its 180th anniversary. Of course this gigantic festival (the world's largest fair) serves up more than just cold brews – with wursts, pretzels, schnitzels, and strudels being consumed by Lederhosen and Dirndl wearing partygoers of all ages.
The real Oktoberfest might be on your bucket list, but if you can't quite swing the international trip, the good news is, there are festivals throughout the U.S. that do a great job of bringing a little bit of Germany to American soil. And at one in particular, located in the scenic Catskills Mountains region of New York, traditional autumn leaf peeping and harvest celebrating meets German revelry in the best possible way.
The Hunter Mountain Oktoberfest is a free event taking place every year over two weekends in October; this year's festival was held over October 5-6 and 12-13. Over 40 vendors gathered indoors and out at the base of Hunter Mountain, with the surrounding red, orange, and yellow mountains presiding over the fall fair and providing a dramatic background (the dates typically coincide with the height of upstate New York's fall foliage viewing).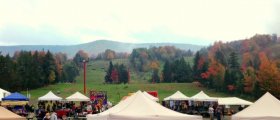 Equally friendly for adults looking for a daytime party and families looking for free fun, there are outdoor beer gardens (for the former), jugglers and puppet shows (for the latter), and calorie ridden treats (for both). The festival also features live German music, opportunities to purchase your own Lederhosen and Dirndls, and last but not least, the awe inspiring natural entertainment of the mountain itself. A highlight is hopping on the ski lift and viewing the colorful surroundings from above.
There's enough to do (and eat and drink) to make a full day or weekend of it. Here are just some of the musts:
– Try the insanely good potato pancakes at Scottie's Baked Potatoes: Huge, crispy, and golden brown, these fried treats (served with applesauce and sour cream) are the best of their kind at the festival.
– Andrew Simmons Wildlife Show: Taking place in the Kid's Tent (but equally entertaining for adults), this wildlife expert has been featured on Good Morning America, the Today Show, and more. He not only brings animals with him that range from adorable to terrifying but he also has a great appreciation for the exotic creatures he's performing with.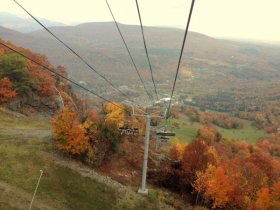 – Jimmy Sturr & His Orchestra: You might not be a great enthusiast of polka, per se, but seeing this Grammy winning polka prodigy (whose orchestra is on the List of the Top Ten All Time Grammy Awards) definitely gets you in the Oktoberfest spirit.
– Karl Ehmer's "World Famous" Bratwurst: They've been making traditional, old-school German sausages since 1932, and they're as good as they look. Served loaded with sauerkraut and a side of German potato salad, add a few cold beers and you'll practically be speaking German in no time.
– Damned Good German beers: Skip the lines outside and head to the main bar inside, where a small selection of very good beer is being enjoyed by those who definitely enjoy it. Then head back out to the picnic tables and drink in the suds and the postcard worthy scenery.
Those living in New York City and the tri-state area can easily hop in their car (or Zipcar), take a scenic drive upstate and combine HunterMountain's Oktoberfest with a fall foliage weekend getaway. Here's how to make the most of it.
Where to Stay:
The Emerson Resort & Spa — Located about 30 minutes from HunterMountain, this elegant country inn offers both family friendly accommodations (in the log cabin-esque Lodge) and adults only options (in the contemporary, romantic Inn). They have a full service Ayurvedic spa, three renowned dining options, and several onsite stores—including the Kaleidostore, housing America's largest kaleidoscope. Another bonus: they are very dog-friendly. 5340 Rt. 28, Mt. Tremper, NY, 877-688-2828; www.emersonresort.com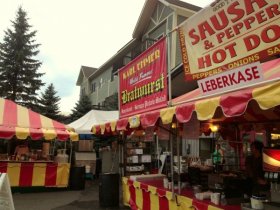 Four Seasons Getaways — As an alternative to a traditional hotel stay, consider gathering a large group of friends or family, and renting your own country inn or estate. Four Seasons Getaways offers two Catskills properties, each within a very short drive of HunterMountain, with spectacular views and amenities. "Your Own Estate" is a 4, 500 square foot vacation home set on 30 sprawling acres, featuring a private lake, an 8 person Jacuzzi, a picnic area, a fire pit, a wet bar, a game room, a poker table, ridiculously gorgeous mountain views, and extreme privacy. www.4sg.com
What (Else) To Do:
Hull-O Farms — Hop on the hay ride to the 15 acre corn maze, while the eccentric Farmer Frank tells you about his family's history on the farm, dating back to the revolutionary war. Pick your own pumpkins, buy local honey and syrup, and get into the Halloween spirit by visiting his family's cemetery, with graves from the 1700's. 10 Cochrane Rd., Durham, NY, 518-239-6950; www.hull-o.com
Ashokan Horseback Riding Club — There's no better way to experience the scenery and the season than on horseback. They offer trails for all levels of riders, and are open year-round. 363 Beaverkill Rd., Olivebridge, NY, 845-657-8021;
What is "tricks"
How to put on collar tips
what does mi vida mean in english
How long to smoke chicken thighs
what does a hydrafacial do
what does it mean when you see a rainbow
what does the peace corps do
what classes are required for nursing
what does share focus status mean
what does gmo stand for weed
Why do plant leaves tips turn brown
How to grill chicken wings
Mario kart 8 deluxe how to do tricks
How to make beef wellington?
How to get acrylic nails off
what does bish mean
How to cancel planet fitness
How do i get tips and tricks to stop popping up on reddit
How to do a proper push up?
How to straighten hair without heat?
How to mine cryptocurrency
How to get rid of gout
How to throw a knuckleball
what does glassy eyes mean
what are the six kingdoms of life
what does pogue mean
what does obfuscate mean
What skills movements freak tips that make some girls better in bed to make guys obsessed
Tips how to improve memory
How to snake a drain
How long does it take to close on a house
How to remove dark circles?
what does compel mean
How to rebuild trust in a relationship
How many hat tricks does auston matthews have
what does dob mean
How to stop nail biting?
what time does burlington open on sundays
what does fickle mean
How to start a business without money
How to make edamame
what does fanatic mean
what does innocent mean
Vape ring tricks how to
How to find the discriminant?
How to blur a picture?
How to calculate percentage increase in excel
How to find out if i have a warrant
How to relieve buttock muscle pain?
How to sleep with neck pain?
what are the 4 stages of prostate cancer?
How to clean glass stove top?
How to crop a video?
How to find force
what does repost do on tiktok
How to spy on someones text messages without their phone for free?
what are welts on the skin
what does msg taste like
what does goldman sachs do
How to get sponges in minecraft
How to take a screenshot on a dell
what does pending mean on realtor.com
what does it mean when a woman squirts
what does drl light mean
How to be beautiful tips
How to dark hair with silver tips
what does iq measure
How do wing tips increase span
what does a normal throat look like
How to take feet pics?
How to treat whiplash?
How to make beef tips and gravy over rice
How to check storage on mac?
what does toma mean
How to buy dogecoun
Tips on how to be quiet in icu
How to make gas in ark
what time does petsmart open
Why do cats like q-tips
what does oblique mean
What pipette tips used for gilson
what does limit mean
How to find the mode of a data set
How to treat cold sores
what does point spread mean
what does claire mean
How to change ringtone on android?
what does nepotism mean
How to watch star wars?
what does repose mean
Where to buy magic tricks
what does copyright mean
How to fry salmon
How to reseason cast iron
what are nasal polyps
what does flea larvae look like
How to make homemade mashed potatoes?
what does istg mean text
What do you get from landing tricks fortnite
what does e commerce mean
what does ic stand for
How much does it cost to paint a car a different color?
Tips for paying for christmas when your broke
How to vaping tricks
How to watch tnt?
what are cannabinoids
what does an emg test for
Classes on how to train your dog to do tricks
what does lil mean
How to find rising sign
Getto boys who sampled my mind's playing tricks on me
what does holy grail mean
How to clear stuffy nose instantly
what does suki mean
How to stretch groin
How to make your dick grow?
what does cta stand for
what are mao inhibitors
Source: travelsquire.com
RELATED VIDEO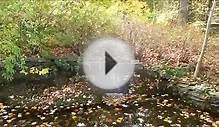 Autumn and Oktoberfest in Bear Mountain State Park, NY ...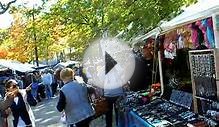 OKTOBERFEST BEAR MOUNTAIN NEW YORK 2010
Share this Post