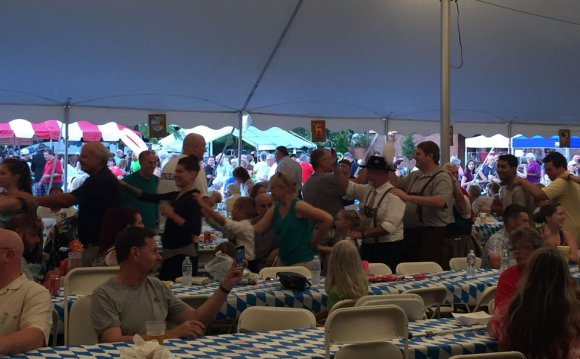 Of all the iconic German foods enjoyed during Oktoberfest, one of the best is also one of the most simple: Spaetzle.
The Bavarian version of Italian gnocchi and eastern European halushky, these soft egg noodles require just a handful of ingredients you already have in your pantry. And they take just minutes to cook, after stirring the batter together.
But, oh, the taste. Done well (i.e., slightly chewy, but still light on the tongue), spaetzle are a heavenly way to celebrate your real, or wished-for, German heritage.
Atria's has been serving spaetzle since 1999. That's when Josef Karst was hired as executive chef and initiated a special Oktoberfest menu of German foods. It was such a runaway hit, it still stands today in its entirety.
"It blew out of the water, " Mr. Karst recalls.
Not that it was an easy sell: Pat McDonnell, who in 1998 purchased the original Mt. Lebanon restaurant dating to 1930 from the Atria family, came with a chain restaurant mindset. A key player in bringing Steak & Ale, Chi-Chi's, Chili's Grill and Bar and Boston Market to the Pittsburgh market, "he never saw [a German] gravy in his life, " says Mr. Karst, who cooked that first dinner in Mr. McDonnell's kitchen.
Not everything is Bavarian — his slow-cooked sauerbraten, served with raisins in a sweet and sour gravy, is a Rheinland specialty, while the apfelstrudel has its roots in Austria — but it is authentic. All of the high-prep recipes are family ones, handed down from his mother, Gerda, and maternal grandmother, Veronika, who ran the kitchen at her parents' inn in Fischbach an der Nahe in southwestern Germany.
"It's like Sunday dinner, " he says.
A native of Mittelreidenbach in the Birkenfeld district of Rhineland-Palatinate, just northeast of France, Mr. Karst knows his stuff. In the 1980s, he was chef saucier at Hotel Kulm in Valbella, Switzerland. He also served as executive chef at Gasthof Hotel Helmer in Schwangau, Germany, and from 1989 to 1995 owned his own restaurant, Brauhaus Meisenheim. He came to Pittsburgh in 1999 when his wife, Amy, a Pittsburgh native he met in Switzerland, was offered a job teaching German here. He has worked at Atria's ever since.
The traditional way of making spaetzle is to slather the batter into a long strip on a wooden cutting board and then cut and quickly scrape long, thin strips of dough off the board into boiling water; as the dough moves across the surface, it gently rolls itself into a noodle. Actually, any smooth surface will work; Mr. Karst has worked off the lid of a shoe box.
The dough cooks in a flash: Spaetzle are done when they float to the surface of the water, usually in 2 to 3 minutes.
Source: www.post-gazette.com
RELATED VIDEO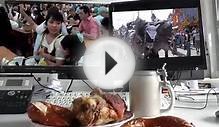 Oktoberfest Munich, Traditional Pork hocks, Pretzels ...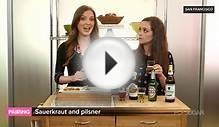 3 German Beer and Food Pairings to Celebrate Oktoberfest ...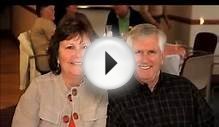 Oktoberfest
Share this Post