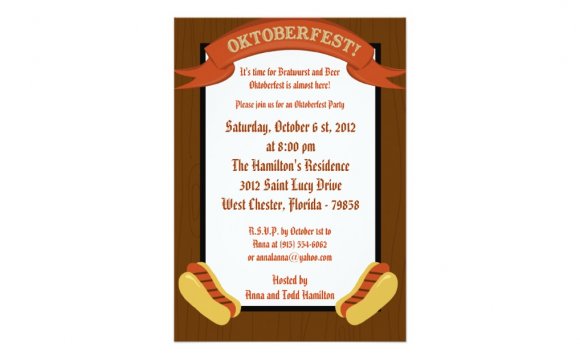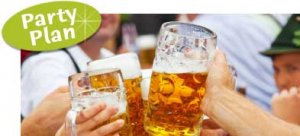 Some of party girl's favorites...
Ach du lieber! It's starting to look like nature's paint box spilled from the sky, decorating the leaves in every shade of red, orange and gold, and you know what that means...time to getten zie down mit your friends at a good ol' fashioned German-style Oktoberfest! Get out the lederhosen, roll out the barrels of beer, get the oom-pa-pa player and have a grand ol' time with these Oktoberfest party ideas!
The original Oktoberfest is held every year during late September and early October in Munich, Germany. It runs sixteen-days and is the world's largest festival, six million people attend every year! Your celebration may be a bit smaller, but it will be just as much fun with the right Oktoberfest ideas and party supplies (and beer of course!)
Oktoberfest Invitations
We have great looking personalized Oktoberfest invitations that can be personalized with your party information with candy bar wrappers and bottle labels to match.
We have a great semi-custom caricature invitation with the host and hostess dressed as a German fraulein and herr host of the party. If it's a corporate gathering, we can feature your logo and guest of honor or company president. This same design can also be featured on welcome signs, programs and more!
If you want to make your own invitations, the red, gold, and black of the German flag, or the blue and white of the Bavarian flag are both fantastic color schemes. Use a Fraktur font, which is a German style of blackletter, or a gothic font.
Fun Oktoberfest invitation wording will get your guests excited for the party:
Grab a beer! Oktoberfest is here!
Pull on your lederhosen and oom-pa-pa your way over to our haus!
Join us for beer and brats at the Miller's Annual Oktoberfest Party!
Oktoberfest is a real treat... lots of beer and plenty to eat!
Join us for a (beer) barrel of fun and a German feast at our Annual Oktoberfest Party!
Oktoberfest Decorations and Party Supplies: make your party look like the inside of a beer tent
During Oktoberfest, large tents are set up and decorated according to their own theme and colors. One of our favorite Oktoberfest party ideas is to create your own tent. Since you probably will not have multiple tents, pick one theme to decorate the space.
White and light blue are the colors of the flag of the state of Bavaria, the largest state in Germany. They are very popular colors to decorate your Oktoberfest party with.
Another great option is to use colors of the German flag, and decorate the party in red, black and gold.
If the weather is good and you have the space, setup a pop-up tent or canopy in your backyard. Cover the inside of the tent with crepe paper and balloons.
For a party indoors, make a crepe paper canopy that mimics the feeling of a tent.
Decorate the party space with strategically placed bouquets with beer mugs as balloon weights. Place the balloon bouquets on the sides of the buffet, on tables, and at the front door.
Make flower bouquets using carnations, dried wheat and hops, and use beer mugs as vases.
The Bavarian oom-pah band is one of the most lively parts of Oktoberfest. CDs with German music and polka oom-pa-pas will add an authentic oomph to the evening. If there's an accordion player in town, he might be available for a live performance.
Whether you are indoors our out, here are 5 easy and fun Oktoberfest party ideas and decorations to put up in your tent or party room:
Oktoberfest Danglers and Oktoberfest Swirls - These are the best! Hang just a few packs of these swirls from the ceiling or tent and they will really make your party space pop!
Oktoberfest Table Decorations, centerpiece ideas and Menu
Start by laying down a blue or Oktoberfest patterned table cover on the tables. Set each place with Oktoberfest paper goods, or place them at the beginning of the buffet if you are not doing a sit down dinner. A light up beer mug for each guest is a nice touch.
Here are a few Oktoberfest party ideas for table centerpieces:
Metal tubs filled with Oktoberfest beer and ice... decorate them with ribbon to match your color scheme
Clear beer mug with sand and a candle
Sheaves of wheat tied with a ribbon
Pumpkins and gourds piled in the center of the table
Fall flowers (add hops of your florist can get them!)
Feed them and they will come! Your guests will savor each moment of Oktoberfest if you serve the best of the wurst. No Oktoberfest is complete without the finest sauerkraut, wurst, weinerschnitzel, kielbasa, crispy potato pancakes (served with applesauce and sour cream YUM!).
Make sure you have a variety and the food is easy to serve buffet style. Here is my opinion of the perfect Oktoberfest party menu:
Bratwurst
Frankfurters (Hot Dogs)
Sauerkraut
Potato Salad
Potato Pancakes
Pretzels with Cheese and Mustard Dipping Sauces
German Apple Cake or Black Forest Cake
And, as ol' Benjamin Franklin said, "Beer is God's way of showing us He loves us and wants us to be happy" (Really, he said that!) So, you want your guests to be happy, right? Have lots of beer (or Märzen, as it is called in Munich) on hand and you'll have your guests so happy they'll be singing for their supper! Many beer companies market their own "Oktoberfest" brew this time of year, so have a selection.
A basket with Oktoberfest beads should be set next to the beer. It will remind everyone to keep toasting:
"Ein Prosit, ein Prosit
Der Gemütlichkeit
Ein Prosit, ein Prosit
Der Gemütlichkeit!"
Personalized Oktoberfest beer labels are a really nice touch. (You'll probably also want to serve root beer along with water with personalized water bottle labels for those who don't want to sing for their supper.) Make sure to order extras, everyone will want to take a few home.
Oktoberfest Party Activities
There are things to do at an Oktoberfest party besides eat and drink? Of course! (Although to be fair, many of these games are more fun when combined with lots of eating and drinking) "Viel Glück!" (Good Luck!)
Beer Stein Race - Give each participant a full mug or stein and have them race to a finish line. Whoever had the most beer left in their stein wins the race (use a large measuring cup if it is close).
The Polka-Off - Like a dance-off, but with Polka. Don't forget to include the chicken dance!
Yodeling Contest - you can give our prizes for the loudest, longest, most authentic... you get the idea
Costume Contest - best dressed wins
Source: www.party411.com
RELATED VIDEO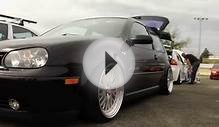 Oktoberfest 2013 (next Level Tuning)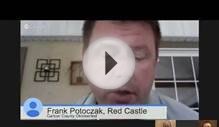 Oktoberfest Festivals in Pennsylvania - 2015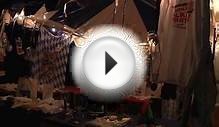 Oktoberfest
Share this Post